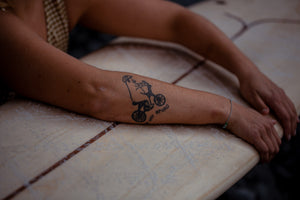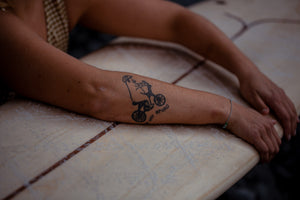 Like all good things in life, look after it and it will serve you well…
THINGS TO REMEMBER
Store board in a sufficiently thick board bag and preferably out of direct sunlight. Never leave your board in your car, on a hot day, with the windows up! 
Avoid leaving your board in heat over 40C for extended periods of time.
Ensure your breather vent is in and done up tightly - but not too tightly as to avoid breaking the plastic housing.
Replace your breather vent once every year, or after every 100 surfs.
Purchase one of our ding repair kits and watch our video tutorials on how to use it - should you need it…
As with all surf equipment, it's a good idea to rinse breather vents with fresh water after each surf.
 DING REPAIR
 Snap Resistance:
Our boards are believed to be around 5 times more resistant when compared to PU surfboards. This is due to the incredibly strong torsion box principle used in their construction. This coupled with solid wood rails and Paulownia/Kevlar/fibreglass composite skins, makes for a formidably strong composition. So much so we offer a replacement surfboard for anyone who manages to snap theirs surfing free of charge.
 Pressure Dings:
 Our boards will not suffer pressure dings like your regular foam boards. A tightly knitted lattice work of internal ribs and stringers provide great resistance to point load pressure. The area between the ribs - that we call cells - are spanned by the solid timber skin. When the cell is compressed, the timber and Kevlar/fibreglass composite will spring back to its original shape, rather than causing a pressure ding. This ensures the shape of your surfboards remains constant, providing you with consistent performance.
Superficial Dings:
 Any superficial dings can be repaired at your local ding repair shop In the regular way.
 Rail Damage:
 Our rails are made from solid Paulownia and typically range from 20-35mm in thickness. The rails can resist considerable impacts, at worst you may damage the fibreglass and dent the wood below. The repair of such damage can be approached as per the information provided above in 'superficial dings'.
Damage To Skins:
Our skins are virtually impenetrable. However should you be unfortunate enough to experience the kind of impact that would break through the deck skin - such as surfing onto reef - we have a way to resolve this with the use of a timber patch. Please contact us directly for more information...