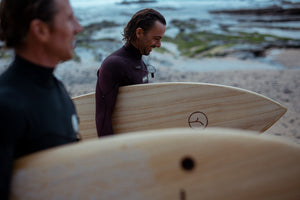 Bosiny is a project that has developed following many conversations at sea between founding members John Railton and Alexander King. Not only do they share a love for both surfing and surfboard design but also in performance-engineering and craftsmanship. It is from these shared passions that Bosiny was born.
Bosinys' foundation is based upon 3 guiding principles;
Surfboards that are made using the Hollow-wood-construction technique that are hand made to the highest level of craftsmanship achievable.
Light weight, high performance and durability.
Sustainability at every level from production through to distribution.